During last night's Emmys, television's best dressed men put on a clinic for black tie fashion. While the standard black tuxedo is a staple in men's formal wear, last night's attendees wore a variety of made-for-Hollywood alternatives and remixes to the traditional eveningwear outfit. While some styles are probably better left on the red carpet, we provide a few tips for the bolder and more enterprising among you who may consider getting a little creative for your next event that requires formal attire.
And the winners for Best Dressed Men at the 2017 Emmys are…
5. Tradition remixed – Alexander Skarsgard – Peak Lapel Three Piece Tuxedo
The 2017 Emmys featured peak lapels everywhere. While shawl lapels on tuxedos have gained in popularity, the peak lapel is a timeless classic style that works well for all body types. Just make sure the width of the lapel is correct, as peaks that are too slim or wide peaks will affect your proportions (and are also more trendy and apt to go out of style over time).
Skarsgard wore it best in his well-tailored Zegna tuxedo with a black waistcoat that adds another dimension and accentuates his tall, athletic build.
4. Classic Stand Out – Justin Hartley – The Midnight Blue Tuxedo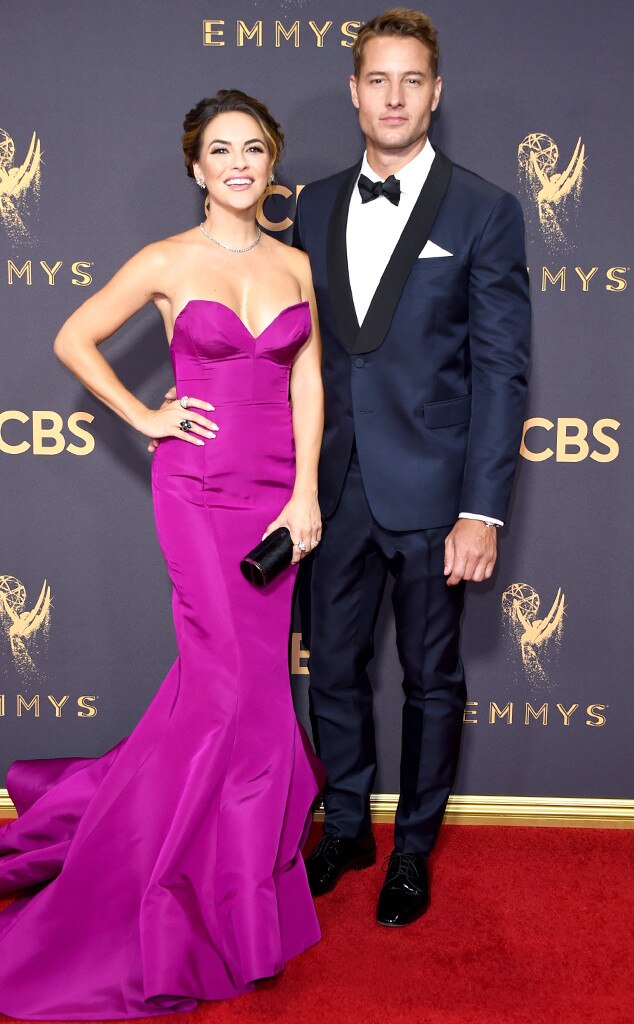 What do you choose if you want something a little different, but still timeless enough to wear more than once? Try midnight blue. In the low light common at black tie events, the deep navy color adds a richness that stands out against the sea of black tuxes without sacrificing any elegance.
Justin Hartley's midnight blue Tuxedo by Valentino is cut perfectly, and the rounded shawl lapels make a nice contrast to his angular face.
3. Blue Crush – Colin Jost – Velvet Blue Dinner Jacket
With fall and winter weather fast approaching, velvet becomes an option for those of us willing to take risks. Velvet is not for the faint of heart, but with high quality fabric and a very slim cut, anyone can look red carpet worthy. Comedian and writer Colin Jost expertly pulled off a sleek navy velvet dinner jacket with the confidence you'd expect from a man rumored to be dating Scarlett Johansson.
2. Gold…. Ari Gold – Jeremy Piven – White Dinner Jacket, Club Tuxedo Collar Shirt
For a generation of men, Jeremy Piven's Ari Gold was the gold standard (sorry!) for well-fitting suits and the alpha attitude of getting ahead. We personally emulated many of the styles worn by his character on Entourage. Although we haven't been able to see his personal style so much on his new show, Mr. Selfridge, Piven reminded us that he's still got it at the 2017 Emmys. Wearing a white dinner jacket and a club tuxedo collar, Piven's look harkened back to old Hollywood.
1. Purple Reigns – Donald Glover – Purple Tuxedo
Every year, it seems there's one guy that wins all the important awards and somehow also looks the best while doing it. In 2017, that man was Donald Glover.
His two Emmys, including one as the first African-American to win for Best Director in a Comedy Series, are groundbreaking in the evolution of the Hollywood's elite. In a year when Glover achieved rave reviews for his album "Awaken, My Love!" under his musical artist pseudonym Childish Gambino, while also taking home two well-deserved Emmys for the first season of his hit series Atlanta, why would he not swing for the fences with his Emmy night outfit?
It seems he just can't miss these days, and thus it comes as no surprise that he rocked a purple Gucci tuxedo with a mustard pocket square flawlessly. On top of being a creative tour du force in the worlds of music and television, Glover is also sealing his place as one to watch for outside-the-box formal wear for years to come.
Want to leave an impression at your next black tie event?
For your own version of a high-quality tuxedo in one of the above styles – or any other style you want to create on your own – contact us or make an appointment in ModaMatters' showroom.