Planning a wedding ceremony requires a high level of attention to detail, and countless special touches are required to make your day memorable for everyone involved. While the focus often revolves around the bride, the groom does have his own responsibilities for the big day, and selecting your groomsmen is one of the memorable parts of this experience. The time-honored tradition of the groom providing groomsmen gifts to his chosen crew is a thoughtful way of showing love to the gentlemen that have supported him through thick and thin. We reject the notion that men are not the best gift givers, and after reading this quick guide you will have a good sense of selecting something both useful and memorable.
The Basic Rules:
At ModaMatters, we've outfitted many bridal parties and seen a whole range of good and bad gift ideas. The three rules we recommend following as you approach the gift buying process are that you should have a budget, give something with practical use, and make it personal.
1. Have a Budget
This will vary depending on several factors, but the most important tip is to be realistic about what you are able to spend on these gifts. A young groom just starting in his career will not be expected to give the same type of gift as an exec in his late 30's. Your groomsmen understand that wedding preparation is a stressful (and financially painful) period, so there is no reason to try to impress them with lavish gifts if that doesn't make sense within your budget. There are plenty of options at different price points, and giving something thoughtful and appropriate will always be appreciated.
2. Make it Practical
While you are window shopping or browsing the web for creative gift ideas, consider gifts that you would appreciate receiving yourself. Make sure the gift adds a creative usefulness toward the recipient's life. While certain items might seem like a nice idea, it doesn't really add anything to anyone's life if it will spend the next 20 years in a box or collecting dust.
3. Make it Personal
If you have the time and can keep the gifts all within a similar cost range, you could give each of your groomsmen their own unique gift. It is more common that you'll be giving all your groomsmen a similar gift; in that case, make sure you customize each of them with names or initials to make the gift personalized. While it might not seem like much, taking the time to personalize each item makes it unique for the recipient and shows the extra thoughtfulness and appreciation you have toward each of the men who will stand beside you on your big day.
Finally, don't wait until the week before the wedding to choose the groomsman gifts. The more time you have to choose and personalize the items, the better (and less stressful) it will be for the whole process.
Ideas for Groomsmen Gifts:
Based on our extensive experience working with grooms and groomsmen, here is our curated list of some of the best groomsmen gift ideas:
Personalized Flask will cost between $12-$45.  We all have been invited to a dry wedding or event; having a discrete stash to warm up a few friends is always clutch. At the upper end of the price range, your flask sets will be enclosed in an engraved wooden box for that extra level of personalized presentation.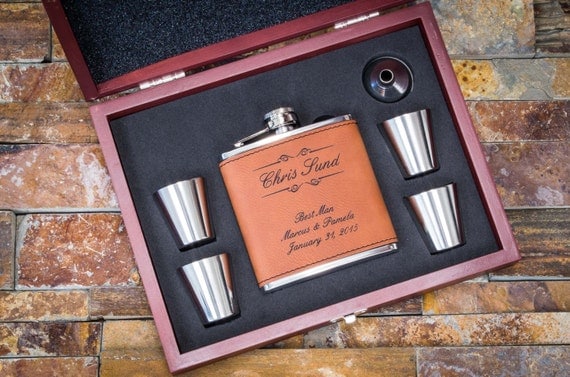 2. Personalized Pocket Squares
Personalized pocket squares cost around $25. Pocket squares always add an extra touch to a suit but having one personalized shows another level of refinement. When it comes to having great style it's about the details. This is a gift that will add stylish flair for a long time.
3. Personalized Hatchet or Knife
A personalized hatchet or knife can cost around $25 – $35. This is a great groomsmen gift for the toolbox of the outdoor adventurer. Awaken your friends' inner lumberjack, and no outdoor experience would feel the same without one of these handy tools.
A personalized watch will cost about $32-80 per watch. We all share a bond with time. A personalized watch is a great groomsmen gift; no matter where your time may go, there will always be a shared bond.
A personalized toiletry bag will cost $38-$70. This is a great gift to have for business trips or vacations with the family. This is a stylish and functional gift that adds depth to any gentleman array of accessories.
A three pair set of quality monogrammed socks will cost $45.00. This is a great gift to make sure all your groomsman have the same socks at the ceremony and for photos, but that can also be worn well into the future to work or formal events.
7. Monogrammed Tech Case or Zip Folio
A quality tech case or travel folder can cost around $49 – $150. Genuine leather ages well over time and draws instant reactions every time you bring it out while traveling or at work. Adding the monogram will provide a more distinguished look, appreciated for years beyond the ceremony.
$60-$240. It is $60 for a quarterly membership. Choose whatever amount of time fits within your preferred budget. Gifting an informative resource for delicious whiskey options will expand spirits and range of taste. This gift will remind the groomsman of your appreciation with every pour, and provide a chance to enjoy new moments amongst good company.
A personalized bobble head from HelloMiniMe is about $79 and a great way to capture the character of the individuals that helped you create your special day. This is a gift that can be displayed in the groomsman's home or office, and will be good for a laugh and provide a conversation piece anytime its noticed by a new friend or coworker.
10. Engraved Butcher Block Cutting Board
Butcher blocks can range between $99 and make an excellent addition to a kitchen. This gift is both decorative and functional. Having a personalized butcher block will be something enjoyed in a kitchen for many years and will help prepare countless meals.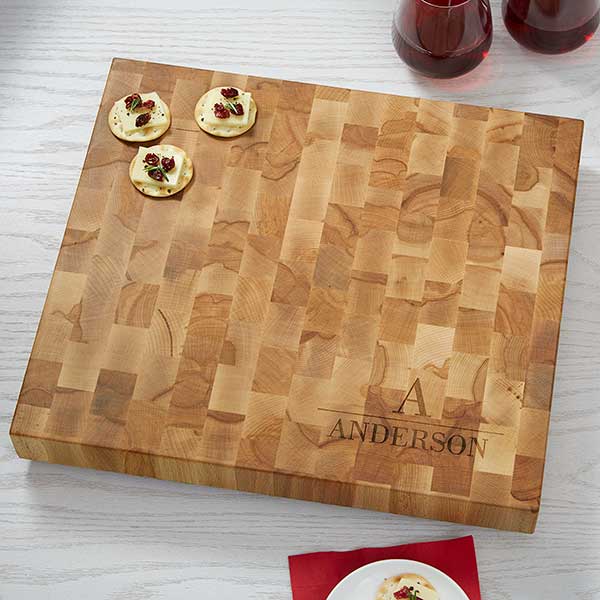 Any of the above options can be combined with others or mixed and matched with other groomsmen gifts in any way you prefer. These items all satisfy most or all of our rules, and would certainly be appreciated by your groomsmen.
ModaMatters Weddings
We'd be remiss if we didn't mention ModaMatters' own wedding packages and engage in some shameless self-promotion. If you're thinking about wearing matching suits or tuxedos for your wedding consider outfitting the whole crew in made-to-measure pieces from ModaMatters. Renting a tuxedo will require a lot of time and coordination by the groom and each groomsman, the tux won't be the highest quality, it won't fit you as well (even after alterations), and in the end may still end up costing between between $200-$400 for something you don't get to keep. We offer special deals for the groom and major discounts when you add shirts, ties, and pocket squares to the ensemble.
Schedule an appointment in our showroom or contact us to hear more about our wedding packages. Make all the details of your wedding something people will remember forever.